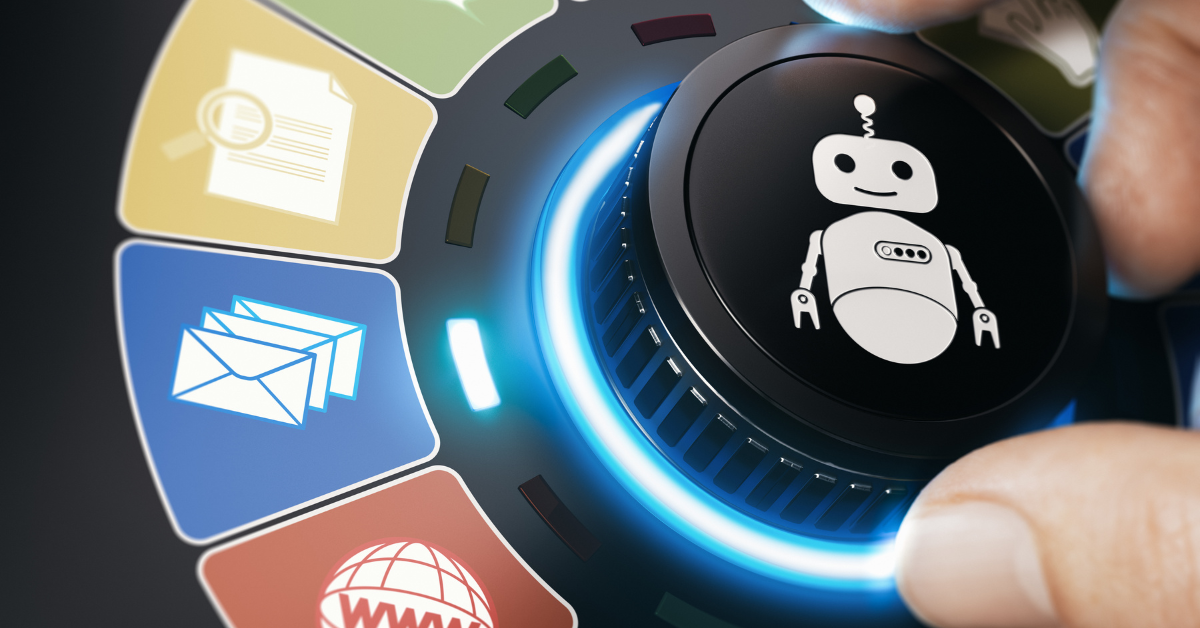 Robotic Process Automation (RPA) can make significant improvements within business.  Although it has been available since the early 2000's, its incorporation still remains low.  This is likely due to limited understanding of the technology and its potential.  This blog is written to help increase understanding.
Robotic Process Automation (RPA) is technology employed to automate parts or entire process streams. These "Bots" are computer programs that can be set up to perform the activities of workers such as:  conducting transactions, capturing and analysing and editing data, initiating actions, etc.
With the ability to be applied to a wide range of functions, Bots can be wholly automated or remain interactive with the workforce (i.e. do some processing then have human involvement).
RPA is a rules-based technology. The Bot repeats these rules over and over to repeatedly process the work it is assigned to.
By incorporating other technologies, RPA can exceed the limitations of adhering to a specific set of rules. For example, Artificial intelligence (AI) and Machine Learning (ML) can be incorporated with Bots to form Intelligent Automation  (IA) where the Bot has access to make determinations and therefore adjust to changing conditions.   Consider the example of a financial institution employing Bots continually analyzing large quantities of transactions quickly to identify possible fraudulent instances.  The Bot will employ AI to help determine if the transaction should be held for further verification.  This might result in the issuance of a message the Bot sends to the transaction owner or other responsible party in the financial institution.
Bots can be integrated with other technology to further increase functional value. Examples include Optical Character Recognition (OCR), Natural Language Processing (NLP) and other digital processing.
Bots are designed to be integrated with external applications and databases. Examples include for example Data Lakes, Blockchains, and Enterprise Applications (such as SAP, Oracle, Salesforce, Workday, Atlassian, etc)
The CIO Jun 29, 2022 article "What is RPA? A revolution in business process automation" by Thor Olavsrud and Clint Boulton is a well written source if you want a deeper understanding of RPA.
Clearly, employing robotic process automation can reduce the workload for over stretched employees by transferring repetitive tasks to Bots allowing the workforce to focus on higher-value activities.  There is significantly more value corporations can realize through deployment of RPA.  Let's examine this further.
What are some benefits of Robotic Process Automation (RPA)?
RPA enables organizations the ability to lower labour expenses, reduce human error and accelerate speed of activities.
RPA can help streamline and optimize business operations
It can free up staff members to focus on more strategic and valuable tasks
It can result in increased employee job satisfaction and reduced stress yielding lower turnover
RPA can lower labour expenses and increase overall efficiency
Computerized robots can increase a team's efficiency by 35% to 50% when configured effectively.  For instance, utilizing robots to execute basic, repetitive operations like copying and pasting data between systems can speed up the process by above 30%.  Since automated processes reduce human error instances—like transposing numerals during data entry—accuracy most times are improved.
Organizations can further enhance their automation endeavours as a result of the intelligent automation (IA) value chain by integrating RPA with cognitive technologies like machine learning, speech recognition, and natural language processing. This will enable the automation of complex jobs that typically necessitated perception and decision-making.
What is some of the criteria we recommend be considered when employing Robotic Process Automation (RPA), choosing an offering, and selecting an implementation and support approach?
In order for these benefits to be successfully realized, RPA has to be properly utilized, designed, implemented, and managed.  Here are some of the questions we help organizations consider before investing in and during implementation of RPA initiatives:
Based on calculations regarding the quantity or volume of instances and total time duration of processing each instance, how many Bots will be required to perform the tasks in the frequency required?

Assume a Bot takes 10 minutes to process each instance. Each Bot sequentially runs one process step at a time.  Using this example, the Bot can only perform 6 instances an hour (60 minutes in an hour / 10 minutes processing per instance = 6 instances)   If an organization requires 100 instances an hour to be processed and the Bot takes 10 minutes per instance, the organization would therefore require 17 Bots running simultaneously.

How fast does the RPA product run?
Based on the quantity of unique processes the organization envision automating will determine the quantity of Bots required.

Each Bot can do a variety of unique steps. But it repeats that programming each time.  Assume an organization is going to employ Bots for automation of invoice matching.   Lets also assume that organization is going to employ Bots for automation of on/off boarding workers.  The same Bot can't be used for both these processes. 

When considering the potential library of Bots being deployed, does the organization have a change control process in place to manage the Bots from change request through development, UAT and ultimately promotion to Production?
Are the processes being assessed represent low, medium or high candidates for automation?
Does the organization need to improve the process before applying automation or can the implementation of RPA facilitate any such improvements?
What is the organization's ability to learn, implement and maintain any Bots?
What are the risks to realizing success and therefore achieving ROI?
Does the environment allow for programmatic integration or are there extensive legacy components and manual processes that may limit the successful deployment of a chosen product offering?
Does the organization have limitations or preferences for the Bots to run on-prem, in a private cloud or is a public cloud service acceptable?
What are the additional expenses and organizational learning that will be required for other technologies the organization need to incorporate to empower the successful deployment of the Bot (AI, ML, OCR, NPL, etc)?
Not all Bots are the same.  On our website we've therefore detailed extensive factors and differentiations we believe should be kept under consideration.  
How can S-Square Systems help in Assessment, Implementation, Maintenance and Support of Robotic Process Automation (RPA)?
Our process is focused on ensuring the application of the technology is appropriate for the challenge of the organization.  We approach each automation consideration as a separate project and help the organization do proper as is/to-be analysis determining if RPA is appropriate and building a comprehensive proposition with documented ROI for the client to make a business investment decision to proceed or not.  This is in contrast where a software vendor will do a single POC/POV and then convince a client to make significant financial invest in a large quantity of licenses to be used throughout the organization.
This often leads to overspending, under realization of value, failed initiatives and wasted time and effort by employees or worse, expensive non-productive consulting services.
Unlike RPA COTS vendors or expensive consultants, our background is in SLA-based Managed Services.  We offer a bundled set of SLA-based services that can cover all aspects required to successfully define, implement and then support a pool of Bots supporting a portfolio of automated processes.  As already explained our RPA expertise will help determine if and how the technology can be best validated for utilization.  Our DevOps services will help ensure the environment required to successfully deploy and run the growing quantity of Bots will meet the demands of the organization.  Our Development and Maintenance services bring the expertise needed to successfully code the Bots for each approved process as well as integrate the Bot to the internal and external systems required for the successful automation of the process.  This includes experience in COTS packages, custom applications, database and large data warehouses as well as integration with other technologies required by the Bot.  Finally, our Enterprise Application Administration expertise allows us to ensure the Bots remain operational and tuned over time as infrastructure it runs on receive patches and OS upgrades, as applications it is integrated with are modified, as network and security are hardened requiring port and firewall changes.
Our support services extend the spectrum from full managed services to helping an organization be fully self-sufficient or any combination in between.  We therefore support the creation of a strong Robotic Process Automation (RPA) Center of Excellence to guarantee effective automation initiative governance and administration.