Upgrade Approaches:
IBM Cognos Analytics upgrade using in-place and parallel upgrade and its pros and cons.
In-Place upgrade -> Applying the newer version over top of the existing version
Parallel or Separate Install -> Installing the newer version of the software in a separate location
Over-the-top Content Store -> Using existing content store (copy), upon upgrade, new version alters the existing tables
New Content Store -> Using an empty database, letting the new version create its own tables fresh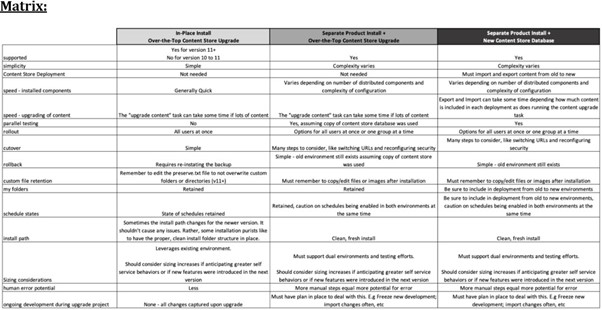 We can upgrade the version of Cognos Analytics by performing an "over the top" installation. This is the default upgrade method and the simplest and easiest way to upgrade Cognos Analytics. All components are upgraded to a newer version using the same configuration details, ports, themes and extensions as your previous installation.
Steps:
Backup your Environment
Before we start it is important to make a full backup of your Cognos Environment on all servers.
Content Store – Using your Database Management Tools while the system is offline, please make a Full Backup of your Content Store.
In Cognos Administration Perform a Full Content Store Export Deployment.
Preserving Customized Files
The Cognos Analytics upgrade process automatically preserves your configuration data when upgrading. However, if we have customized our environment, we will need to check the documentation to ensure that the files and directories we have customized are going to be preserved.
Files to be preserved during an upgrade are listed in the install_location\configuration\preserve\.ca_base_preserve.txt file. Do not edit this file. Instead, edit the install_location\configuration\preserve\preserve.txt file if we want to remove or preserve certain files or directories when upgrading. Instructions about using preserve.txt are included in the file itself.
Upgrading
Download the version of Cognos Analytics we would like to install. For 11.1 it is necessary to download both the installation wizard and the accompanying zip file.
Ensure that we upgrade all Cognos Analytics components in our distribution. This includes all Cognos Servers – (Dispatchers, Content Managers, Optional Gateways) plus all client components such as Framework Manager and Dynamic Cube Designer. Remember that some servers may have server components and client components in different locations on the same server.
When we upgrade, you perform the following tasks:
Install and configure the new version of the product.
Move your content to the new version of the product.
Upgrade your report specifications.
Compare your upgraded content to your existing content to ensure consistency